Another customer was supplied with a CNC wood milling machine for machining boards for the production of children's furniture and toys. A professional CNC router with a work surface size of 3000x1500 mm achieves ideal accuracies of + -0.05 mm in positioning and repeatability. This woodworking machine is equipped with an automatic tool changer on request with 8 positions. The powerful BT30 spindle itself selects the wood cutter according to the instructions of the CNC machine operator or directly to the machining program. The control of this CNC wood milling machine is solved by means of a touch full HD monitor and a computer in an industry standard. The delivery includes, of course, software suitable for woodworking machines and training in the operation and maintenance of the portal milling machine. A high added value is also the angled extension, which allows you to machine a wooden board from the top as well as from the edges in one clamping. Clamping of wooden boards on this CNC router is solved by a vacuum table with a lamella pump. However, it is not a problem to anchor the wood with the help of grooves and clamping jigs. Chip extraction is standard on all our CNC wood milling machines.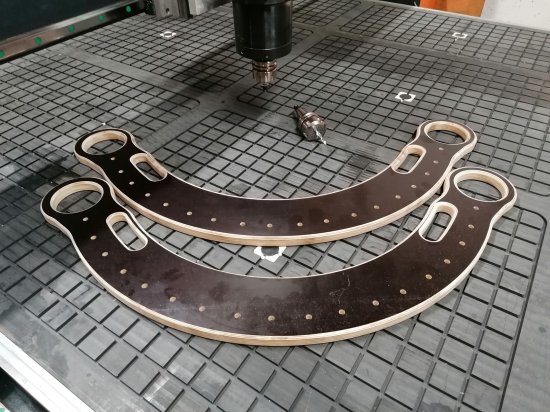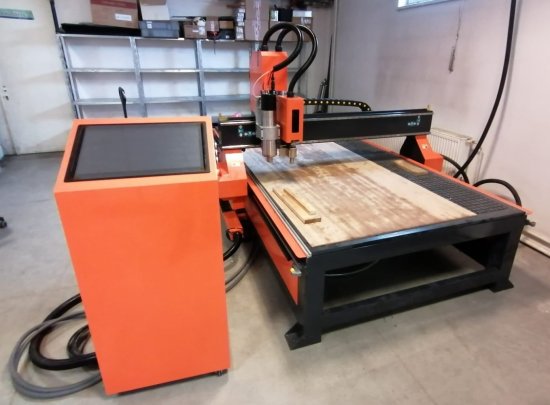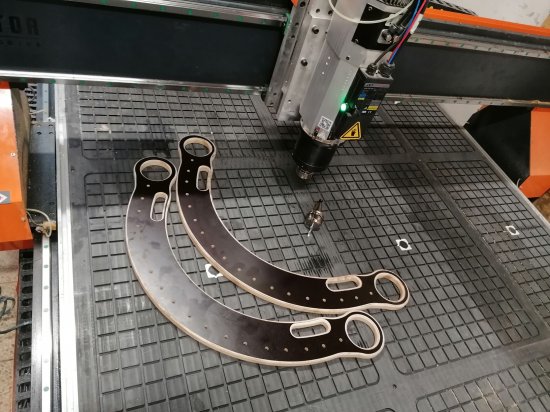 We are a Czech manufacturer of machines and this gives us an advantage in the possibility of adapting all CNCs to wood. In the request or order of the machine, state your idea and we will then send you a price offer with other customization options or tell us how you need the CNC wood milling machine to work and we will suggest a suitable design of the CNC machine. The highest possible design is the format of 5 controlled axes, which will allow you to machine any shape from wood as well as other materials. In this case, the spindle is tilted in all possible directions and the automatic calculation of the tool position can be done simultaneously by the wood. CNC wood milling cutters find a logical application in all joinery such as furniture manufacturers or in schools, for example. Our experience with woodworking gives us the opportunity to recommend suitable cutters for a given product. We will be happy to advise you on everything.
Advantages of the Raptor CNC wood milling machine:
Possibilities of adapting various parameters of CNC wood milling machines according to your application
Professional router design with robust machined steel weldment construction
Smart CNC milling machine functions, including parking during loading, possibility of automatic nesting
Choice of optional accessories such as automatic tool change, pneumatic stops or multi-axis design
Rich standard equipment of the CNC router: central travel lubrication, chip and dust extraction, servomotors or remote control
Extension with more working heads of a CNC wood milling machine or construction of a custom machine with a significant modification of a portal milling machine
We are at your disposal in any questions or non-binding inquiries of this CNC machine. If you are interested, we will be happy to show you a wood milling machine directly on your material according to your documents. Alternatively, we can arrange a presentation at one of our customers. This gantry milling machine can have several uses, because in addition to wood, plastics or aluminum and other softer materials can also be machined in the base. See for yourself the qualities of our CNC routers and allow your production to automate the production process. We are a Czech company Raptor Technologies and we manufacture machinery and equipment.