We are glad that another customer uses a large-format plotter to improve the efficiency of their production and facilitate the work of their employees. On the CNC plotter Raptor mainly cuts foams and bends cartons with a pressure wheel. In this case, the CNC plotter is equipped with a combined working head, which has two tools. The first is an oscillating cutting knife suitable for cutting even thicker materials and the second tool of a large-format plotter is a rotary knife, which has a cutting speed of up to 50 m / min. With these possibilities of a professional CNC machine, you can get a big saving of production costs of your production. We manufacture each machine to order according to the given specification.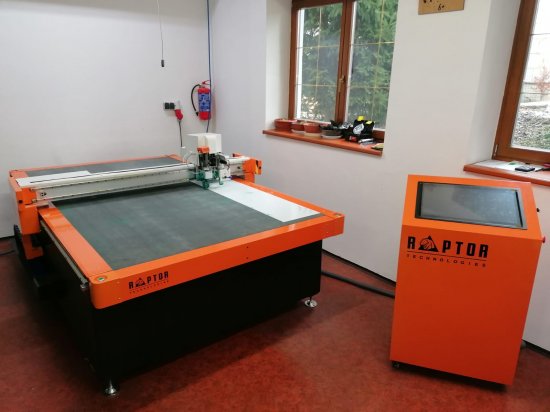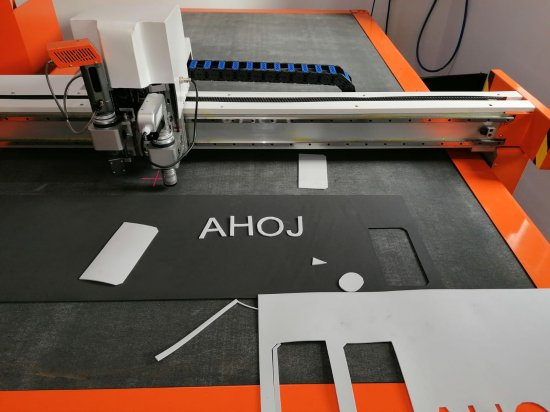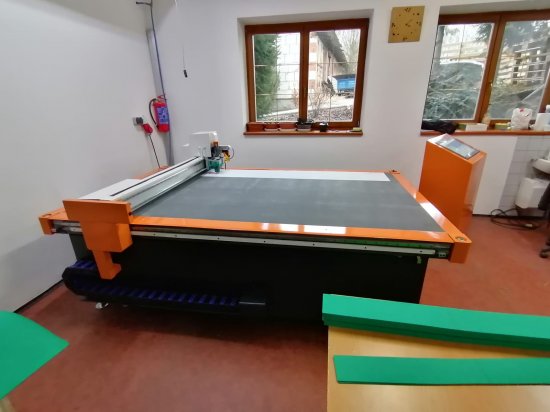 The choice of the size of the work surface and the equipment of the large-format plotter depends entirely on you. If you are interested, we will of course be happy to advise you and recommend a suitable set of CNC plotters. Of course, we have a demonstration of the machine, including cutting tests directly on your materials. This plotter really offers a lot of possibilities, and it is the materials and their cutting that sometimes differ greatly. For example, customers often cut paper, stickers, cardboard, carbon composites, foams, fabrics and fabrics, leather, neoprene, foil, insulation and much more. It is the variety of applications that gives our CNC cutting plotter a wide application in our country and in the world. Customers of the Raptor large-format plotter are not only from the Czech Republic, but increasingly also foreign clients. We are a Czech manufacturer of CNC machines and our products help our customers achieve their production plans.
Advantages of the Raptor large format plotter:
Flexibility of application in production processes
Possibilities of adapting the entire CNC plotter
Quality of workmanship and long service life
Speed ​​and accuracy in both positioning and cutting
Variability of large format plotter tools
Quality components for professional results
Warranty min. 2 years and all necessary services
So if you are looking for a suitable cutting machine, do not hesitate to contact us. We will immediately prepare a quotation for you according to specific requirements. Each large format plotter includes intuitive software in Czech and English, a powerful computer with an HD monitor. We are interested in modern trends in mechanical engineering, which we apply to our CNC machines. Transport and installation at the destination are a matter of course, plus training of the operator and maintenance of the plotter. After purchasing the machine, you also have online and telephone support included so that you do not have to interrupt your production process unnecessarily long. We will set up a CNC plotter directly for your material and adjust the cutting conditions. We are Raptor Technologies.