The Raptor CNC plotter excels in its flexibility in terms of application possibilities. The CNC plotters are designed so that it can be easily adapted to the customer's wishes. It finds its application in the textile industry, where it is able to cut patterns into fabrics or leather. It also has a place in advertising agencies, where it simplifies the work of cutting cardboard and stickers for advertising banners. This cutting CNC plotter is also ideal for cutting various foams, foils and many other materials. Depending on the application, we will design the optimal tool for you and adapt the work surface.
Advantages of the Raptor Plotter:

High working speed
Maximum possible accuracy
Wide possibilities of individualization
Complex cutting plotter
Robust construction of CNC plotter
HIWIN linear guide
Freestanding control
Intuitive software
21.5 "HD touch monitor
Entire design in industry standard
Different desktop designs
Sample configuration: CNC Plotter Raptor 2516
Technical parameters

Working area: 2500x1600x50 mm
Positioning accuracy: + -0.05 mm
Maximum feed speed: 50 m / min
Maximum working speed: 30 m / min
Weight of CNC plotter: approx. 1200 kg
Steering: 5 axles

Included in the price

CNC Plotter Raptor 2516
Cutting tool (oscillating knife, rotary knife ...)
Control panel including software
Transport to the destination, including installation
Plotter operator and maintenance training
2 years warranty for all CNC plotters

Optional accessories

The second head
Trailing knife
Milling with CNC plotter
Describing
Cutting pads
Write us about an individual quotation
We are a Czech manufacturer of CNC machines and this gives us a great opportunity to tailor machines to you. We are pleased that we can meet interesting people with even more interesting projects, for which we can be their partner. We always guarantee the customer the best ratio between price and quality. The main factor for us in the construction of a CNC plotter is its purpose and the products it will produce. On this basis, we then build all cutting plotters purposefully and efficiently. However, it is not a problem to convert the machine to a new application during operation. Thanks to the high variability, it is possible to cut a completely different material on the plotter after minor modifications.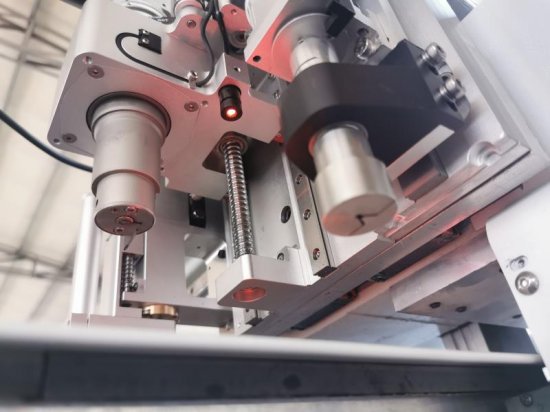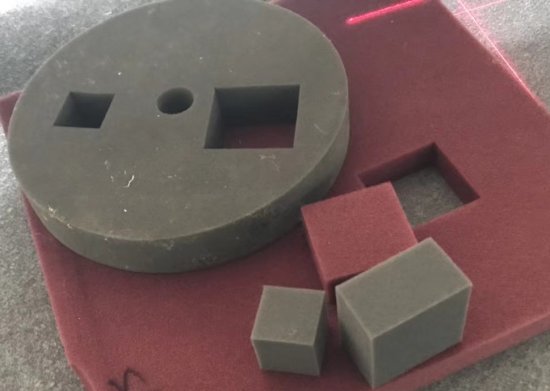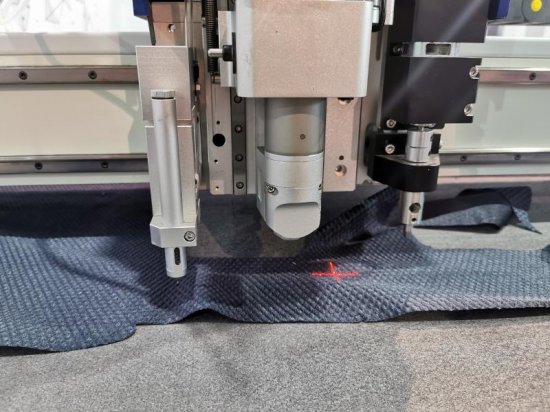 Unlike a CNC Router, this plotter is able to cut really thin materials such as paper or foils. But you don't just have to cut on a cutting plotter. For example, creasing is possible, when the groove is pushed into the paper and it does not subsequently crack when bent. This technique is mainly used in the printing industry or marketing. With the right tool you can describe or, like with the Raptor Router, you can also mill. Here is an example of the tools used and their exemplary application:
Possibilities of CNC cutting plotters
Rotary cutting knife

Textile or leather
Carbon fibers
Isolation
Foil
Laminate floors and PVC

Oscillating knife

Foams
Carpets
Paper
Cardboard
Cardboard
Seal

Trailing knife

Stickers
Vinyl foils
Plywood
Plastic plates
In addition to the above,
it is possible
to describe and mark with our
CNC plotter
. Some materials are suitable for milling on this machine.
Raptor Plotter
is highly efficient and for some materials it is possible to cut at a
speed of 30 meters
per minute. We designed this machine with the proviso that it will also be used for multi-shift operation in demanding production processes. This corresponds to the robust design and the achieved
accuracy of + -0.05 mm
will certainly suffice for most customers. The control of this
cutting plotter
is very intuitive and user-friendly.
The CNC machine operator
controls the processes via a free-standing control panel with a
large touch screen
and a
powerful computer
. The entire machine is manufactured to an industry standard and all important electrical components are stored in a dustproof box. The screen, including the computer, has
IP65 protection
. We also provide professional 
service
for all our CNC machines.The price of the plotter also includes the necessary software. Convince yourself of the qualities of our cutting plotters.
Raptor Technologies - CNC cutting plotters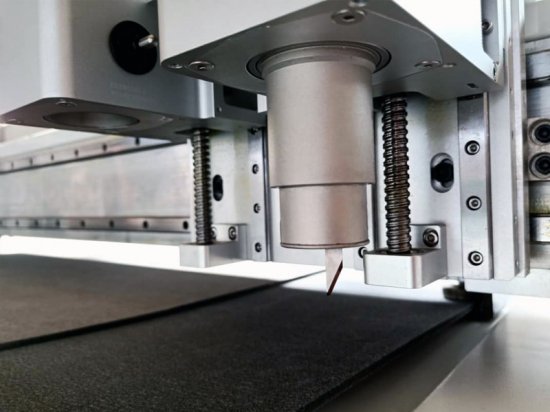 The most frequently used tool of a CNC plotter is an oscillating knife. This tool has a wide range of cutting materials. The length range of the oscillating knives is from 5 mm to 120 mm and this allows you to cut even 10 cm high foam. If necessary, the working head of the oscillating knife can...