Do you need to buy a machine for efficient sheet metal cutting? We develop and manufacture CNC plasmas according to your needs and specifications. We offer a plasma cutting machine with high precision and cut purity at a favorable purchase price from a Czech manufacturer. We have developed a CNC plasma from the Raptor series. These machines excel mainly due to their precise processing, robust construction and the use of high-quality components. When manufacturing our plasma, we think about the long life of the machine and the simplicity of operation.
 

Advantages of CNC Plasma Raptor:

Wide degree of individualization
Robust construction of the machined weldment
HIWIN precision linear guide, oblique toothed racks
Powerful engines
Own burner height control from material (THC)
Anti-collision system of burner and material
Central travel lubrication
Drawers for easy removal of waste
Sectional flue gas extraction, including quality filtration
Freestanding control panel with Windows 10
Electronics stored in a dustproof box
Computer and monitor in industry standard with IP65
Sample configuration: CNC plasma Raptor 3015
Technical parameters

Work surface size: 3050x1550x100 mm
Maximum positioning speed: 20 m/min
Positioning accuracy: + -0.05 mm
Plasma power supply: 160 A
Thickness of cut material: 1-30 mm
Control: English language
Machine weight: approx. 950 kg

Included in the price

Plasma Raptor 3015 robust construction
Control panel including software
Plasma source 160 A including machine torch
Extraction system (fan, filtration, piping)
Transport and installation of the machine at the destination
Machine operator and maintenance training
Warranty: 2 years

Optional accessories

Selection of plasma sources (1-60 mm)
4th axis for burning into pipes and tubes
Possibility of engraving
The second working head
Possibility of drilling
Autogenous cutting (1-150 mm)
Compressor
Write us about an individual offer
Control panel
The CNC plasma Raptor is controlled through a free-standing control panel. Upon agreement, we can place the panel in the premises where it will suit you. The machine is controlled via a powerful quad-core computer on the Windows 10 operating system. You can control the CNC machine via a touch screen 21.5 "HD monitor with IP65 protection or on request using a keyboard and mouse. The system is basically equipped with Mach 4 software, ScheetCam for creating firing programs.The system can be angled sheets and adapts to the possible rotation of the sheet on the work surface. The control is intuitive and in the English language. All important electronics are neatly connected in a dustproof box. On the control panel you will also find all important controls including STOP buttons.
Our target is to deliver machines fully adjusted to the customer needs. 
Customization options

Desktop size
Thicknesses of fired materials
Plasma Sources - We offer alternatives
Wide range of options
Load capacity of the table
Separation of different materials

Technical parameters 

Thickness of the cut material 1-30 mm
Cutting by air/ oxygen /nitrogen
preparation for automatic section evacuation
load capacity of working area 250 Kg/m2

 Operational conditions

Space requirements 5 x 4 m
Environment temperature: + 0 ° - 45 ° C
relative air humidity: max. 90%
Our Raptor CNC plasma excels mainly due to the maximum possible accuracy you need from a controlled plasma cutter. The cutting speed always depends on the selected power of the plasma source. Our know-how has been used mainly in our own THC (torch height control) and our own setting of plasma cutting parameters, when we achieve a beautifully clean cut within the possibilities of plasma burning. All for a very reasonable price. Thanks to high-quality processing, our CNC plasma or plasma cutter has a long service life. We extend it with professional service. We can make our machine even more affordable thanks to the provided financing of CNC machines. We are able to produce a machine of all necessary dimensions and adapt equipment for different types of production. We will adjust the performance of the machine to your needs and requirements so that you do not have an unnecessarily oversized CNC machine or, on the contrary, insufficient performance. The entire production process of Raptor CNC plasma is subject to strict requirements.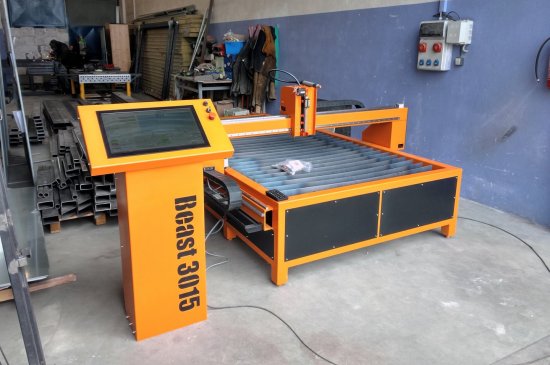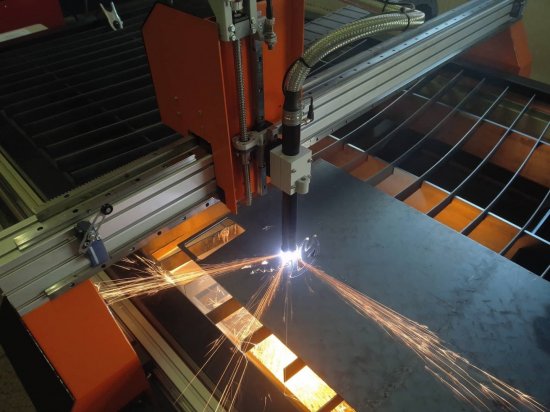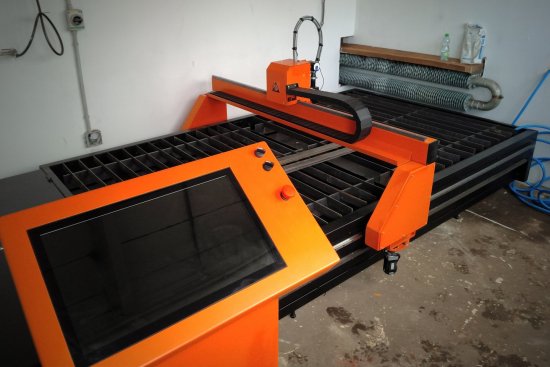 Other advantages of our Raptor plasma include, for example, an anti-collision system which, in the event of an unexpected contact of the torch with the material, switches off the entire machine and thus prevents self-damage. The maintenance of the whole machine is very simple and for easier access to small cuts that can fall out during burning, we have equipped the table with pull-out drawers for easier access and removal of waste. On request, we supply very efficient filtration in the implementation of extraction, which filters out most of the impurities generated during the burning process. The operator of the machine can therefore work in a hygienically safe environment.
Raptor CNC router can be equipped with various plasma sources. It is definitely worth mentioning the CEBORA plasma sources from the Italian manufacturer. Not only we but also our customers have good experience with these sources. These sources can cover a wide power range and even offer a range of HQC (Hight quality cut). HQC sources use technical gases for the burning process, which support better cut quality. We can highly recommend this type of plasma source for cutting stainless steel. However, sources using only compressed air also have great results and, in addition, have a very good price / performance ratio. Based on experience, we will be happy to recommend a source according to your needs or, if necessary, give you a choice of several variants and describe each one so that you can choose the optimal plasma source for your application.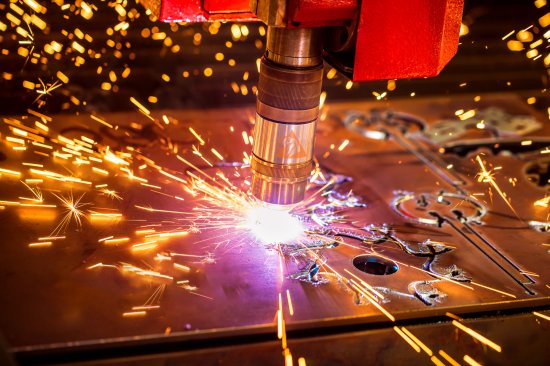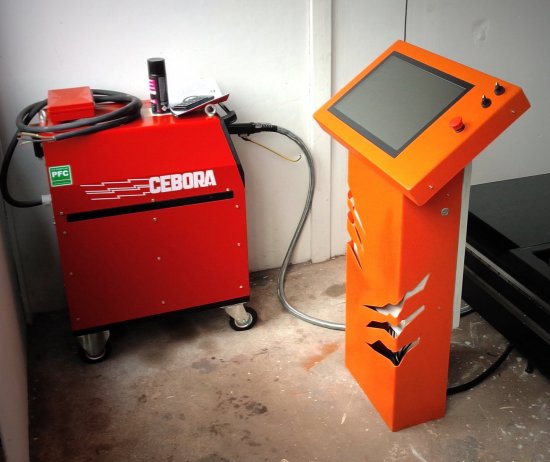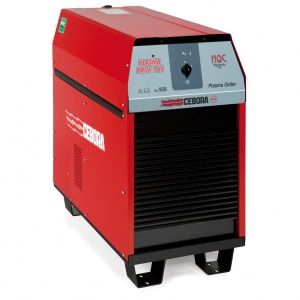 CNC Plasma Cutter
Today, the Raptor CNC plasma is one of the best on the market in plasma metal cutting. If you want a machine with uncompromising cut quality and higher productivity, visit our CNC laser section. You will find all the necessary information there, and if you want to provide details, please contact us at any time. If you need a completely different computer-controlled machine, which we do not have in our permanent offer, visit CNC machines to order and we will manufacture the machine according to your ideas.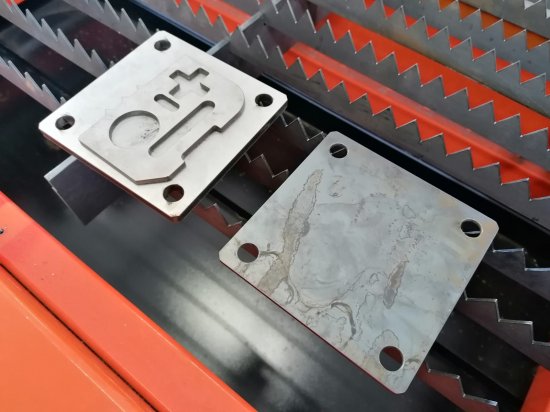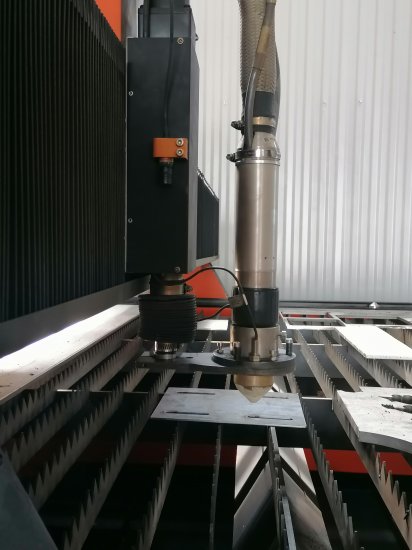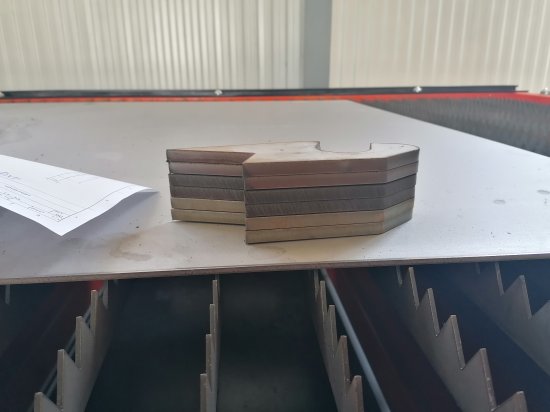 Presentation video:
  Raptor Technologies - CNC plasma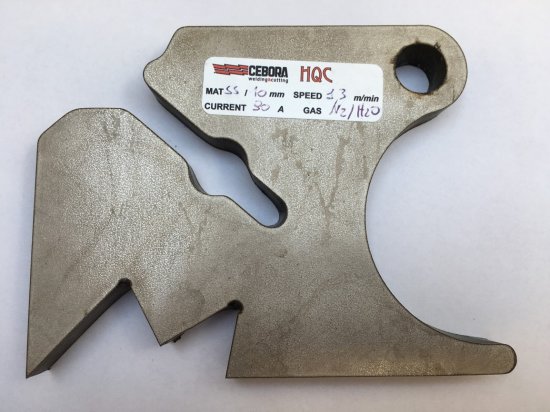 In this section you can see photos of burnouts of different thicknesses from different sources, which we use in our CNC plasmas. For a personal presentation of a selected type of CNC plasma at one of our reference customers, do not hesitate to contact us.

Raptor Technologies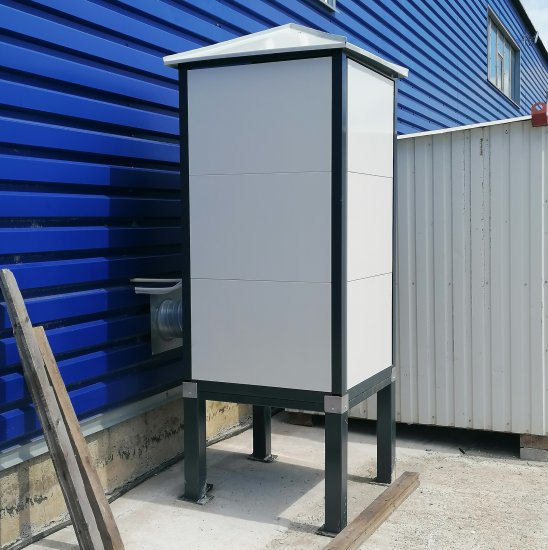 As a Czech manufacturer of CNC machines and equipment, we offer a high-quality industrial filtration unit of our production for dusty machines. The Raptor Clean Air has a powerful fan with selectable flow as needed. We will recommend a suitable fan power according to the given application. Fine...