The Raptor CNC milling machine is another of the machine tools in our current offer of CNC machines. We can manufacture and supply CNC milling machine for metal, plastic or wood. For all types, we offer the option of an automatic tool changer for CNC milling machines to simplify operation and increase the efficiency of the milling machine. The machine can work with many types of tools for different workpiece shaping. We manufacture three-axis, four-axis CNC milling machines, and as the top of our machining center offer, you can have a five-axis CNC milling machine that is able to machine material into all possible shapes.
 

Advantages of Raptor CNC milling machine:

Adjust the size of the desktop
Automatic tool changer already in the base (16 positions)
Wide selection of control system
Versions 3 to 5 pers
Powerful spindles
Automatic lubrication of travels
Machine bed made of resin alloy
Vibration-free CNC milling machine design
Precise linear guidance
Positioning with ball screws and servomotors
Tool probe
Tool cooling system
Illuminated work surface
Blow gun
Excellent speed and accuracy
Long life
Sample configuration: CNC milling machine Raptor 850
Technical parameters

Working surface of the table: 1000x500 mm
Departures in axes: X: 800, Y: 500, Z: 500 mm
Positioning accuracy: + -0.008 mm
Max. spindle speed: 10000 / min
Engine power: 7.5 kW
Max. load capacity: 500 kg
Machine weight: approx. 5,600 kg

Included in the price

Raptor 850 CNC milling machine
FANUC control panel
Automatic tool changer 16 positions
Transport to the destination
Machine operator and maintenance training
2 years warranty

Optional accessories

Automatic chip ejector
Siemens or Mitsubishi control system
Automatic exchanger for 24 positions
4. rotary axis
5-axis design
Oil cooled spindle
The basis of Raptor CNC milling machines is always a resin alloy, which we pour into the prepared molds of the bed itself. This solution absorbs vibrations that would otherwise arise during the machining process on CNC milling machines and thus ensures greater machine stability. We then machine important parts of the machine ourselves and only later install linear guides and other components. By machining the base of the CNC milling machine, we achieve accuracy in thousands of millimeters. The rigidity of the whole machine is redeemed by the high weight of the cutter. But mainly because of this, our CNC milling machine is suitable for metals such as iron, aluminum, stainless steel and others. The cutter can also be used for woodworking. In the case of working with wood, it is possible to choose not only CNC milling machines but also a CNC router Raptor. The same applies to machining aluminum or plastics. In both cases, it is a quality milling center.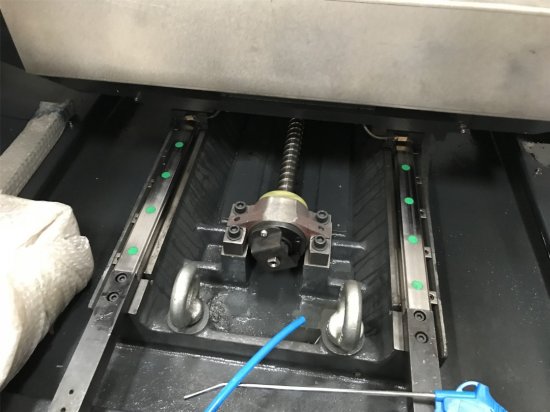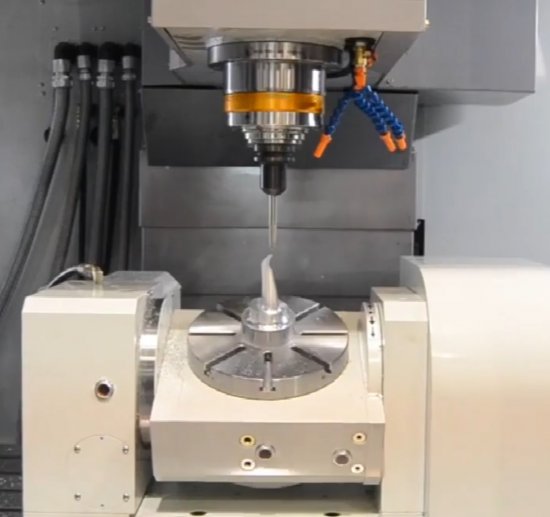 Machining on a Raptor CNC milling machine works with the help of a powerful spindle, which is able to machine even at lower speeds with higher torque. On request, the spindle can be oil-cooled for a better air conditioning effect. The tool, ie the CNC milling machine, is cooled by a suitable liquid and the machine is equipped with a tool probe. The CNC milling cutters are located in the tool changer, which can have a different number of positions, and the spindle takes the required CNC milling cutter itself after entering the action. Lubrication of all travels is automatic and it is only necessary to monitor the oil level in the container. Structurally, our CNC milling machine shares a philosophy with a Raptor CNC lathe. As with the lathe, you can choose between FANUS, Siemens or Mitsubishi Electric. On request, we will recommend the most suitable for controlling CNC milling machines according to experience.
CNC milling center
In particular, the five-axis design of the machining center is a versatile CNC milling machine that is able to machine material from five sides at once. The unmachined side per clamping is only the lower one, behind which the workpiece is clamped to the CNC milling center. This represents a wide range of products that can be created on a five-axis CNC milling machine. The number of axes indicates the number of directions in which the milling tool is able to machine the material. The five-axis design of the milling center positions the tool in the linear axes X, Y and Z and rotates on the axes A and B. Also, the movable table can be of the same principle and the tool of the five-axis milling center is static. Advantages of modern five-axis milling centers:
Saves time and cost per machining
They make it possible to mill structurally complex shapes
They achieve higher accuracy by limiting the movement of the workpiece between the milling machines
Possibility to use shorter cutters, which allows greater speed and accuracy in machining
Overall, they achieve better surface finishes and machining quality

The five-axis CNC milling machine allows a wide range of options and is a modern CNC machine tool. However, not everyone will use its possibilities, and if a three-axis variant of the milling machine is enough for you, possibly supplemented by a fourth rotary axis, we will be happy to prepare an offer exactly according to your requirements. We will help you choose the optimal CNC machine for your application. The Raptor milling center excels in its rigidity, accuracy and machining speed. We are able to recommend and supply suitable milling cutters for machining your materials.
Raptor Technologies - CNC milling machines