Combined working head
Increasing demands on the complexity of CNC machines are also reflected in our CNC routers and CNC plotters. On request, we produce these machines with two or three working heads suitable for various types of applications or also materials. The CNC router can be equipped with a primary milling head, which is of course able to drill holes in the material. The second working head can, for example, be provided with a saw blade which can cut longitudinally, for example wood, aluminum or plastics. The saw can be positioned in the range of up to 180 degrees and this element is ideal for fast cutting of material. With this arrangement, you do not lose the option of an automatic tool changer on the milling spindle. The working head can also be equipped with a grinder. Below you will find a sample of combined work heads from our workshop.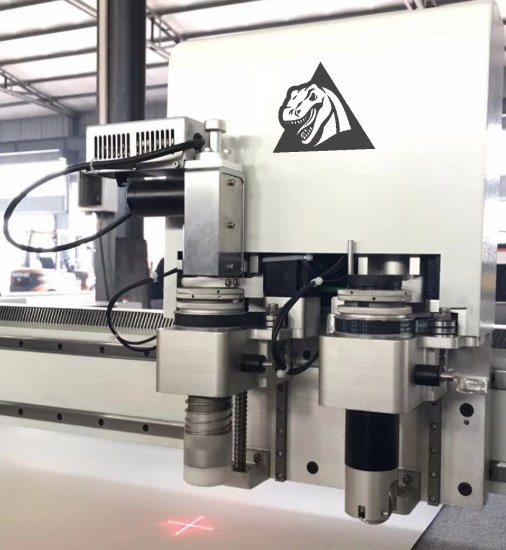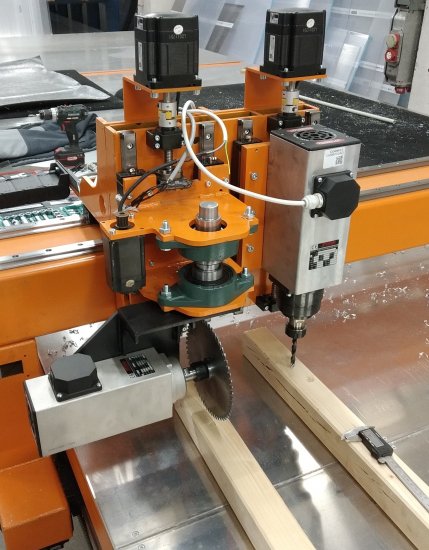 For the CNC plotter, we offer a number of combinations on the work head with multiple tools. It depends on the customer what materials he needs to cut or mill. We most often encounter the demand for a cutting wheel (rotary cutting knife) and an oscillating knife. The rotary wheel is suitable, for example, for textiles, leather or paper. The oscillating knife is used, for example, for seals and rubbers, foams or even foils. If the customer needs to cut these different materials, there is no reason to buy more CNC machines. We are able to supply all these tools in one combined work head. It is also possible to choose from a tangential knife, grinder or milling spindle.
If you are interested in a combined CNC machine, do not hesitate to contact us. We develop and manufacture all machines to order and adapt the machine to your application. In case of further questions or direct inquiries, do not hesitate to contact us at +420 777 210 149 or via e-mail info@raptor-cnc.com.