We offer a modern cutting plotter from a Czech manufacturer. It is a professional CNC machine suitable for cutting various materials. The working surface of the cutting machine can be sized according to your needs and the same applies to the equipment of the board cutting plotter. Thanks to the high speeds and cutting accuracies, the Raptor CNC plotter is a suitable helper for many different productions. With a cutting plotter, you can work with, for example, fabric, foam, foil, leather, carbon fiber, neoprene, paper, sticker or cardboard. The thickness of the cut material appears in the range from tenths of a millimeter up to 100 mm. Depending on the material, we will recommend a suitable cutting technology, including the optimal cutting plotter tool. Alternatively, you can have a combined cnc machine, including the possibility of milling.
Thanks to many years of experience in the field of cutting, we are able to determine the appropriate cutting method according to the material, including the optimal equipment of the board plotter. As a Czech machine manufacturer, we have the opportunity to adapt all important aspects of the machine to you. The Raptor cutting plotter brings efficient separation of thin and soft materials and is used outside marketing agencies, for example in the automotive industry. However, the possibilities do not end there, and even in smaller productions such as the processing of neoprene or carbon fibers, our large-format plotter finds its place. In the photos below you can see a combination of working tools.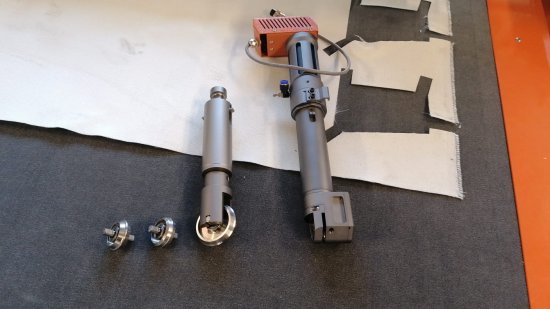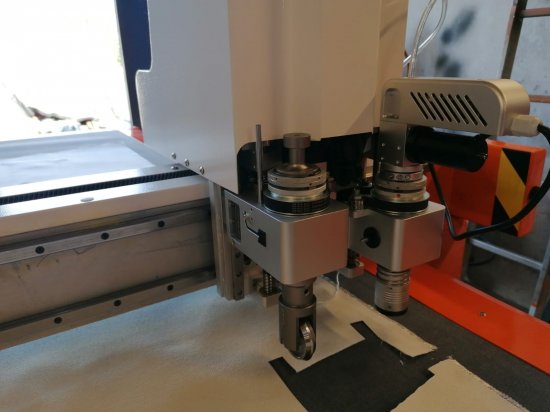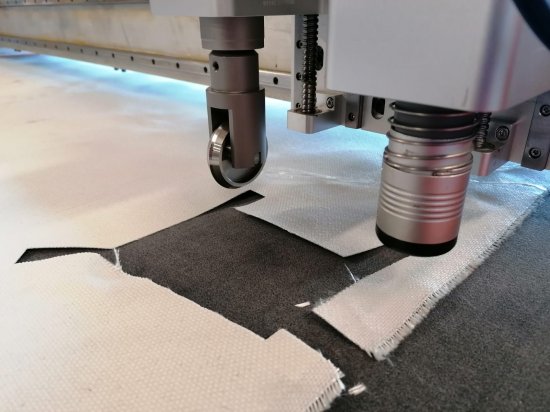 Positioning speed 60 m / min. is achieved thanks to high-quality servomotors and we ensure an accuracy of + -0.05 mm with a flanged board plotter construction and precise linear guidance in all axes. The cutting speed is derived from the material and its strength, but in the case of thin material it is not a problem to cut with a CNC plotter up to 30 m / min. Fastening of materials in some cases is enough by the base itself on the work surface or for maximum fixation we recommend vacuum clamping of the cut material. In the case of a self-unwinding device that is able to wind material from rolls directly onto a rotating work surface, this is a highly automated process. In this case, cutting plotters are the most efficient and are able to cut many pieces of products in one working hour.
Options for tools on the cutting plotter:
Oscillating knife (electric or pneumatic)
Rotary cutting knife in the form of a wheel or creasing knife
Trailing or tangential knife suitable for thin material such as paper
Writing pencil for marking material or describing finished products
Industrial camera for finding marks for cropping
Projector including additional lighting above the work surface of the cutting plotter
Milling spindle with the possibility of automatic tool change
If you are now looking for a cutting plotter, be sure to try to contact us as well. We offer you an unbeatable price for a board cutting plotter in a very high quality. Added value is very important for us and that is why we try to move further and further development of cutting machines and always offer you the most modern CNC machines from the Czech Republic. Therefore, do not hesitate and write us your request, for which we will immediately prepare an individual price offer. In addition to the actual sale of the CNC plotter, we also offer a wide range of services and, of course, warranty and post-warranty service. We are Raptor Technologies - a manufacturer of quality cutting plotters.